Borth Rowing Club Constitution
The Borth Rowing Club Constitution can be amended only by voting at the Annual General Meeting. Any suggested amendments must be made to the the Secretary for inclusion in the AGM Agenda.
Membership Fees
Membership fees of £45 per annum for adults and £30 per annum for juniors (we have members of all ages) are paid by all members and these are essential to pay the ongoing costs of boat maintenance, club insurance and league insurance.
Enrolment Form
Adult members need to complete and return the Adult membership enrolment form to the Membership Secretary.
Junior members need to complete and return the Young People enrolment form to the Membership Secretary.
Membership
Membership of the Borth Rowing club means:
Coming training as often as you can (or want to!)
Attending monthly meetings
Helping with fund-raising events - or turning up!
Taking a turn doing rotas, finding sponsors, or writing publicity etc - whatever you're good at!
Promoting the club when you talk to friends and family
The History of Borth Rowing Club
Longboat rowing in Borth began in Summer 2000, with locals being invited to try out the sport by founder member and former Aberystwyth club rower, Lyn Rees, in a longboat borrowed from the Aberystwyth club.
In early Spring 2001 the group became a club, introduced a constitution, entered our first league races and began training a mixed team for the Ireland-Wales "Celtic Challenge", which we entered in May 2002.
The Club Today
The objectives of the Club shall be:
To promote, encourage and assist participation in rowing.
To participate in rowing events organised by the Welsh Sea Rowing Association (WSRA) and other rowing organisations that may invite participation of the class of boats that the Club maintains.
To coach all beginners using Qualified British Rowing Level 2 Coaches.
We row some evenings and every weekend (on Saturday and Sunday), near high tide and go out in rotation using our two Celtic LongBoats.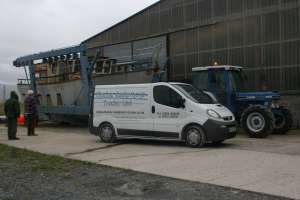 Our Celtic Longboats are stored at the Ynyslas Boatyard. The Boatyard is situated in the Dyfi Estuary opposite Aberdyfi and near to Aberystwyth in the Cardigan Bay. The Boatyard offer Moorings, Slipway Launching, Secure Storage, Internal & External Repairs and Servicing. They also have a 16 ton slipway hoist and large secure area for Winter Storage.
For those who just want to row for fun, that's fine - please come and join us. For those wanting to be considered for a team there will be additional team nights from March onwards. Quite a few of us do circuit training and/or other fitness training, but you'll also improve fitness through rowing.
So use our Contact Us details, send an email to info@borth-rowing-club.org.uk or simply turn up at one of our regular Meetings if you want to give Coastal Rowing a try.